Nacua's TD increases Washington's lead
Puka Nacua catches a pass from Jacob Eason and runs into the end zone for a 33-yard touchdown.
Baccellia stays upright for Washington TD
Jacob Eason finds Andre Baccellia who struggles to keep his balance as he runs into the end zone to put the Huskies up 21-14 before halftime.
Herbert and Redd connect for 16-yard Oregon TD
Justin Herbert completes a short pass to Jaylon Redd who takes it all the way to even the score 14-14.
Eason slings 48-yard TD pass
Jacob Eason airs out a 48-yard touchdown pass to Jordan Chin to give the Huskies a 14-7 lead.
Ahmed's rushing TD evens the score
Salvon Ahmed breaks a tackle and dives into the end zone to make it 7-7.
Washington penalized over returner hiding in end zone
The Huskies are penalized for unsportsmanlike conduct when a returner lays down in the end zone to fool Oregon.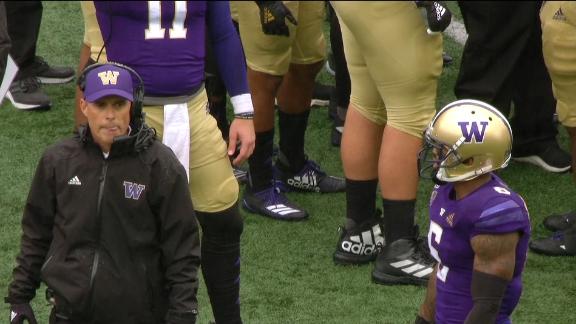 Herbert finds Webb to put Oregon on the board
Justin Herbert completes a 12-yard pass to Spencer Webb for a touchdown, putting Oregon up early.
College Football
Must-see Moments
Minnesota's Rashod Bateman makes amazing one-handed catch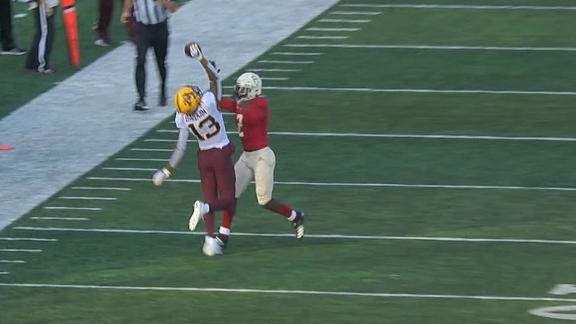 Clemson's Booth ejected for punching Louisville player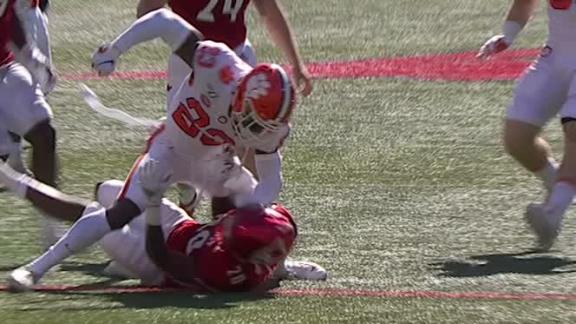 Customize ESPN
On This Date: Oct. 19, 1957
Getty Images

Not only did Maurice Richard make NHL history by being the first to 500 career goals, he was also the first to ever score 50 goals in a season.
Highest-ranking woman in baseball
Neeta Satam for The Undefeated

A child of immigrants is now the highest-ranking woman in baseball.
The NBA's sleep-deprivation trap
ESPN Illustration

It's the NBA's silent scourge, a pox on the bodies and minds of players. This two-year investigation reveals the dangers of chronic sleep loss in the NBA -- and why one athletic specialist is finally sounding the alarm.
Stephen R. Sylvanie-USA TODAY Sports

ESPN+ is now streaming exclusive live UFC events, weigh-ins and more, Ariel and the Bad Guy, Dana White's Contender Series and other exclusive MMA content.
Mark Goldman/Icon Sportswire

Watch and replay select out-of-market NHL games on ESPN+.