LeBron double-clutches for fast-break jam
LeBron nails two 3-pointers to give Lakers halftime lead
LeBron James pulls up from way downtown to put the Lakers in front, then beats the 1st-half buzzer with a straightaway triple.
James lobs to McGee, then rejects Lillard
LeBron James throws a beautiful alley-oop pass to JaVale McGee, then comes down the other end to deny Damian Lillard on the inside.
Turner gets fancy with no-look assist to Leonard
Evan Turner drives the lane and drops an over-the-shoulder pass to Meyers Leonard, who finishes with a nice touch in the paint.
McGee rises up for huge dunk
JaVale McGee uses a ball-fake to get around Zach Collins and throw down a big one-handed stuff.
Hart gets up to reject Nurkic
Jusuf Nurkic tries to finish down low, but Josh Hart leaves his feet to protect the rim and stuff it against the glass.
McCollum finds Lillard for transition slam
Kyle Kuzma coughs it up, and CJ McCollum pushes in transition to hit Damian Lillard for a high-flying finish.
Zion puts on a dunk show in Duke's win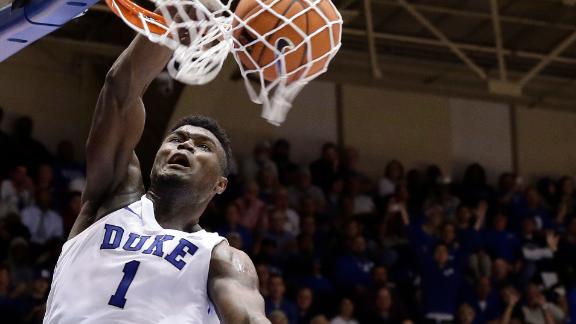 Wiggins throws down epic two-handed dunk over Mirotic
Andrew Wiggins finishes on a huge dunk late in the 4th quarter over Nikola Mirotic.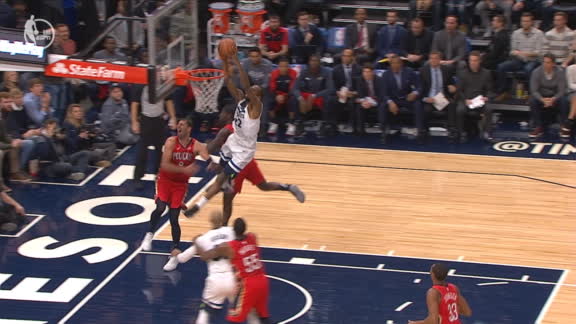 Doncic fakes a pass for the basket
Luka Doncic pretends to pass the ball behind Rudy Gobert and instead scores the easy basket.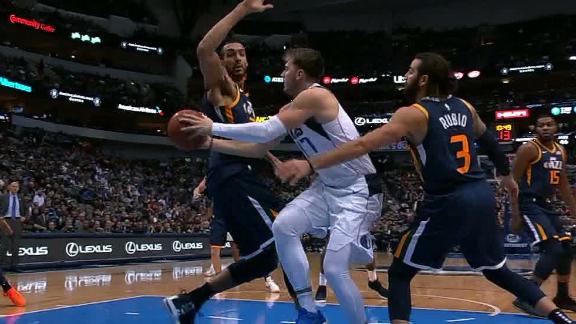 Awards season
DeGrom's historic Cy Young-winning season
Tim Kurkjian breaks down Jacob deGrom's historic season that saw the Mets pitcher win the Cy Young award with a 1.70 ERA and a 10-9 record.
Customize ESPN

Sign up for FREE!
On This Date: Nov. 14, 1970
AP Photo

Seventy-five people, including 37 members of the Marshall football team and its coaching staff, were killed in a plane crash while flying home after a game.
Cleveland Cavaliers

Time to hand out some grades for Nike's final batch of City uniform designs.
Brian Spurlock/USA TODAY Sports

Everything went according to plan for the top 10 teams this weekend, but the schedule doesn't get easier from here for the teams jockeying for that final top-four ranking.
ESPN Illustration

Only three teams -- the Chiefs, Rams and Saints -- were nearly perfect in the first half of the season.