From media day to the Home Run Derby to the Midsummer Classic, Cleveland is rocking. Here's what happened at Progressive Field.
(For our complete All-Star coverage, including rosters, predictions and analysis, click here.)
And your 2019 All-Star MVP is ... Shane Bieber! The Indians right-hander struck out the side with his hometown fans cheering him on during his only inning in of the night.
---
With Aroldis Chapman closing out the 4-3 victory, the American League runs its streak of All-Star Game victories to seven. The AL is now 19-3-1 in the past 23 Midsummer Classics.
---
Pete Alonso is having a pretty great All-Star Week. Last night's Home Run Derby champ knocked in two runs with an eighth-inning single tonight.
---
After dominant frame after dominant frame from five different pitchers who are primarily starters, the American League's bullpen guys have been shaky late as the AL tries to cling to a one-run lead.
---
Home runs are back! An inning after Charlie Blackmon hit one for the NL, Joey Gallo added to the AL's lead with a laser over the right-field wall.
---
Mike Trout on wearing '45' to honor Tyler Skaggs: "It was special ... felt him out there with me. If there's any All-Star Game for me to go 0-for, this is it -- 'cause Tyler's a pitcher; he would wanna go out there and throw some scoreless, hitless innings.
---
Just when it looked like everyone forgot for one night that this is 2019: The Year of the Home Run, Charlie Blackmon hit a solo shot to center to give the National League its first run of the game.
---
Indians fans get to see hometown pitcher Shane Bieber strike out the side in the fifth inning and respond with a standing ovation. He gets Willson Contreras looking at a 95-mph fastball, Ketel Marte swinging on a 3-2 curveball and Ronald Acuna Jr. looking at a 3-2 slider. Good job by the first-time All-Star.
---
The American League just shifted against Cody Bellinger -- in the All-Star Game.
---
One third of the way through the All-Star Game MVP prediction: Houston OF (and former Cleveland star) Michael Brantley, who has driven in the only run of the game so far.
---
The American League strikes first in the bottom of the second off Clayton Kershaw as Alex Bregman singles and then with two outs Michael Brantley doubles into the left-center gap to score his Astros teammate. Hmm. Dodgers ... Astros ... will we see this matchup again later in the season?
---
All nine players in the NL starting lineup are on pace to hit 30 home runs. It's also the youngest lineup in All-Star history, with an average age of 26.4, just under the 26.5 of the 1967 AL lineup. The AL's average age is 29.3, close to the historical average of 29.5.
---
Here is what Commissioner Rob Manfred said when he was asked about the baseballs on Baseball Tonight: "We've tried to be completely transparent about the ball. When there was the first spike in home runs, we got an independent group of scientists to study the manufacturing process, to study the ball, tell us exactly what was going on. They finished their report; they made it public. And then when this year, it kinda started up again with the home run rate---we said publicly, we know the ball has less drag. We need to get better at managing the way the ball's gonna perform in advance of the season and make it a little more consistent."
---
A pair of Houston Astros got opposite receptions from the crowd here in Cleveland. Alex Bregman, a villain here with an interesting rivalry with Trevor Bauer, was booed loudly while former Indians outfielder Michael Brantley received loud roars from his former fan base.
---
Wearing No. 45 to honor Tyler Skaggs, Mike Trout received a loud ovation from the Progressive Field crowd during AL introductions.
---
---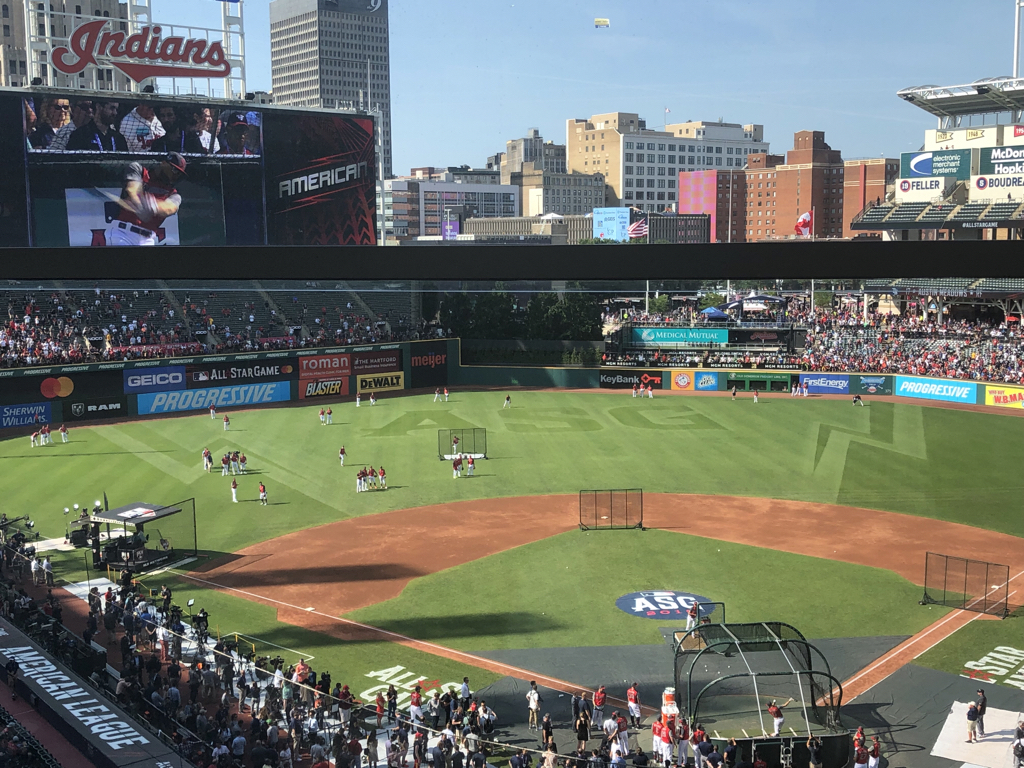 The Progressive Field bleachers are starting to fill up as the AL works out on the field.
---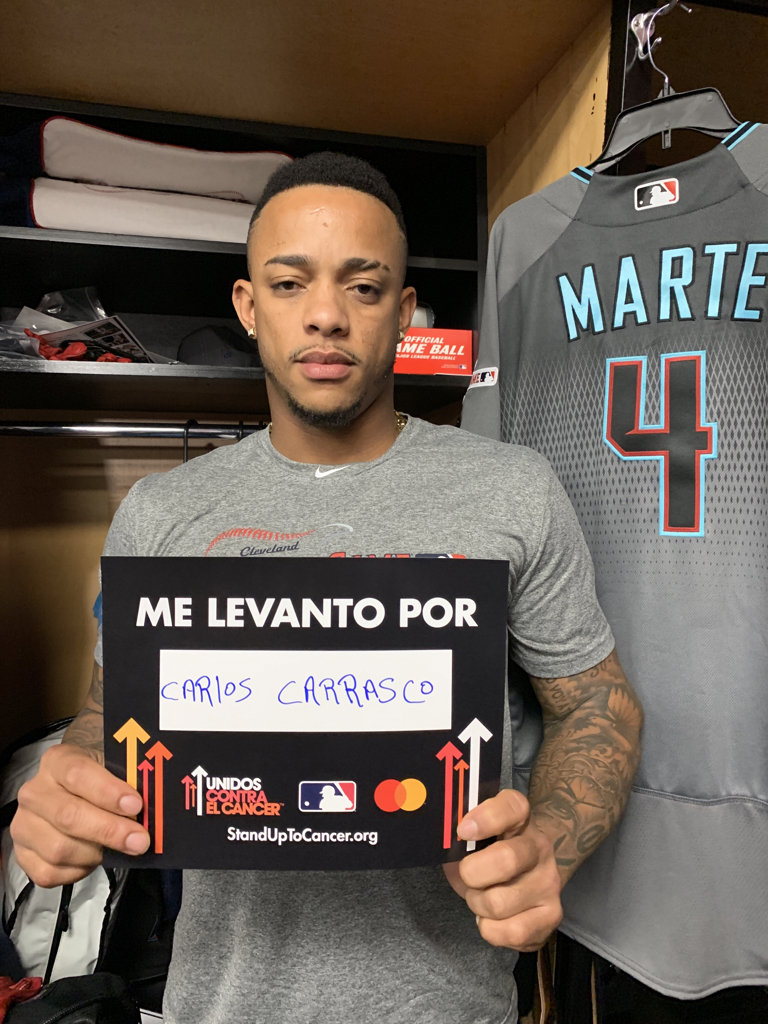 Many players today, including Ketel Marte, honoring the great Carlos Carrasco in his fight against leukemia.
---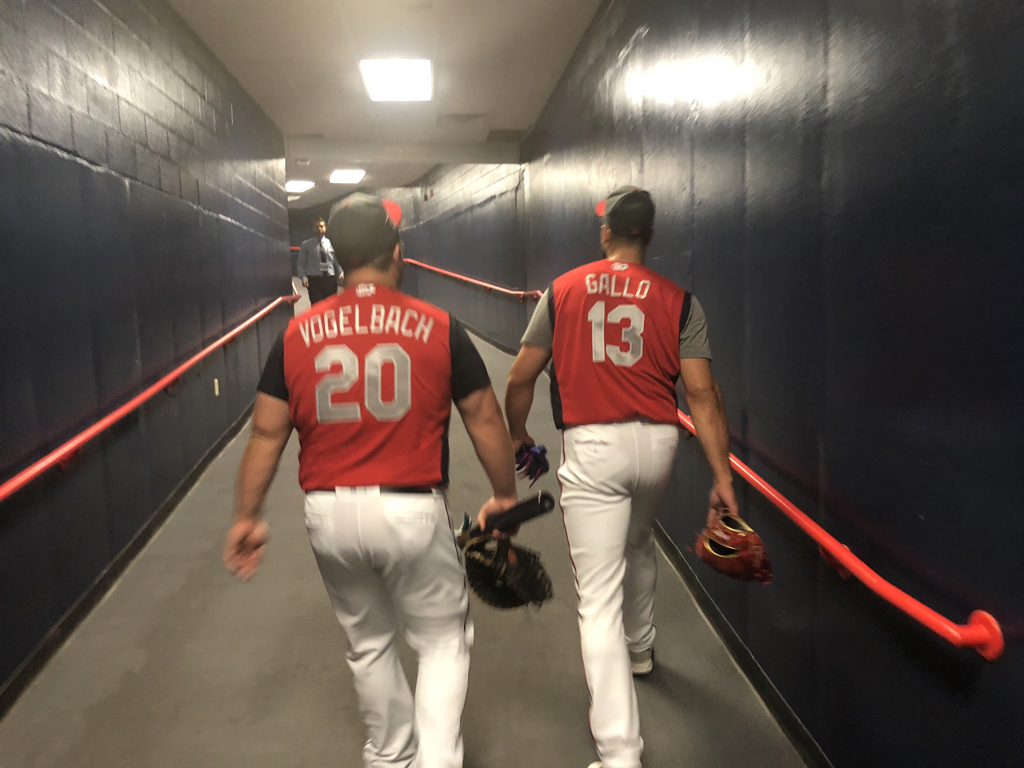 Last night's Home Run Derby was amazing, but man it would have been fun to have these two large sluggers in the field.
---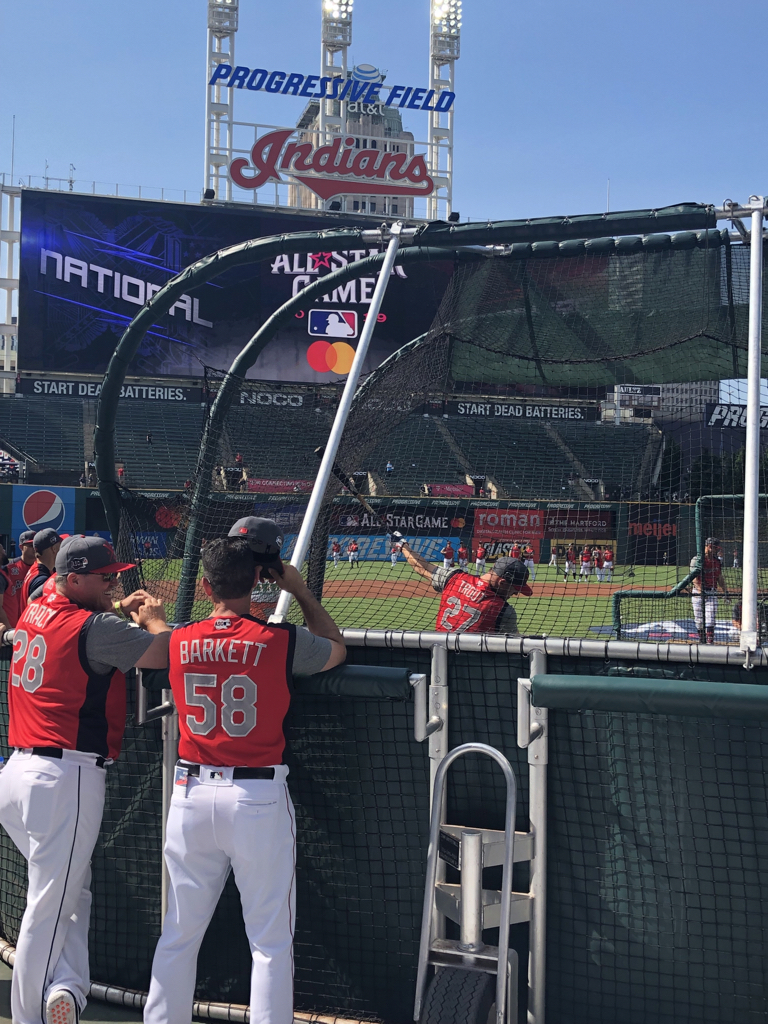 Mike Trout is in the cage taking swings as All-Star batting practice begins in Cleveland.
---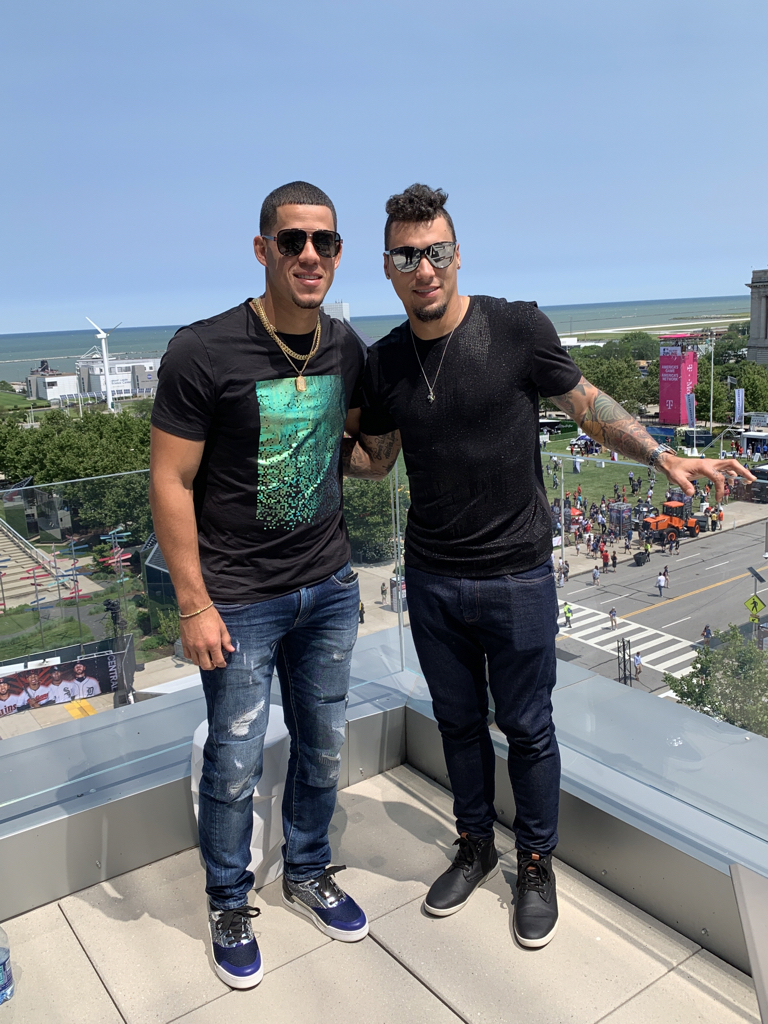 Javy and José went to same high school, and are married to sisters, they'll likely face each other in the third inning today, as they did for the first time ever in the All-Star Game last year.
---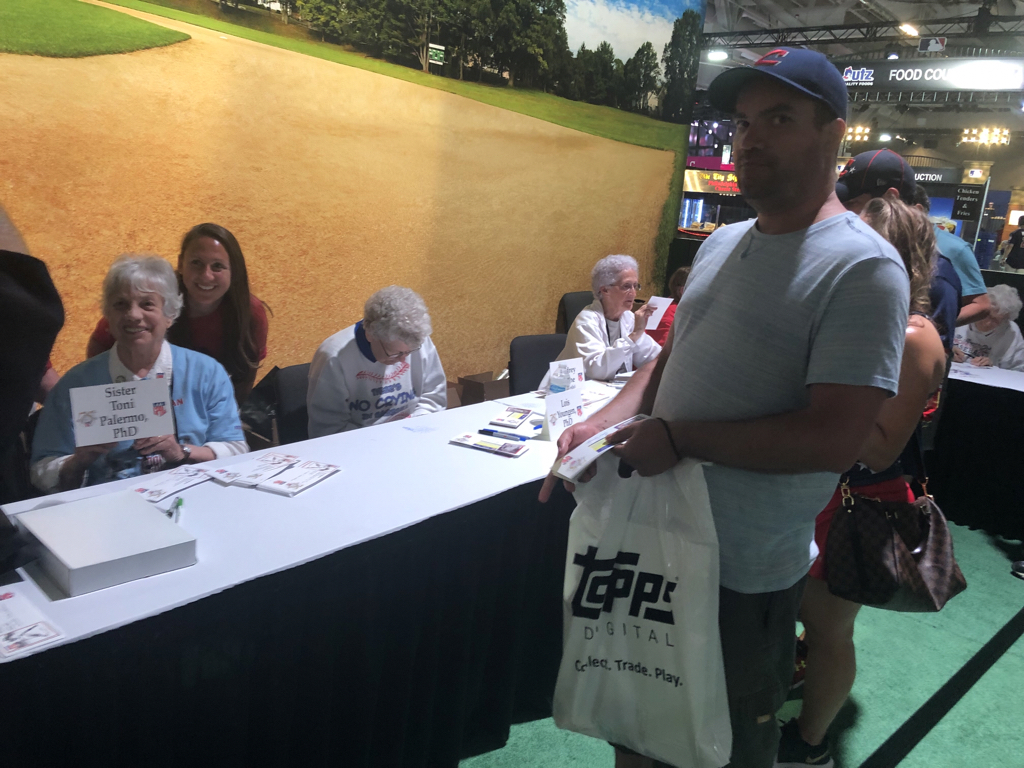 There is a long line at Fan Fest for autographs and photos with six former players from the All-American Girls Professional Baseball League, which inspired the movie 'A League Of Their Own.'
---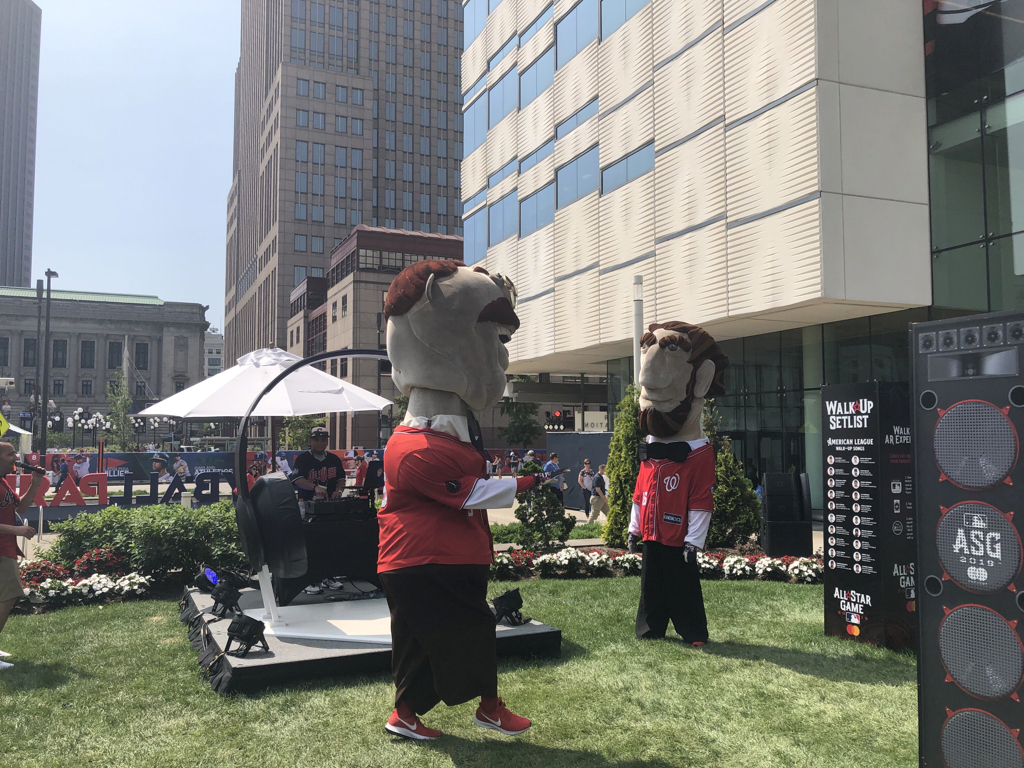 Got some time to kill before the All-Star Game? No problem. Teddy and Abe have you covered with a little dance-off on the lawn at All-Star Fan Fest.
---
Daddy Yankee came onto the field after Pete Alonso won the Home Run Derby and gave him a comically large chain reading "DERBY CHAMP"
---
Much of the night belonged to Vlad Jr., but the 2019 Home Run Derby title (and million-dollar prize) belong to Pete Alonso as the Mets rookie edged the Blue Jays phenom in the final round of a thrilling derby in Cleveland.
---
What's the MLB commercial say? Let the kids play? Well, we have the kids in the finals of the Home Run Derby as rookies Vladimir Guerrero and Pete Alonso face off. On the line: $1 million -- or almost double their rookie salaries.
---
Ronald Acuna Jr. hit 19 home runs in the semifinals. Will Pete Alonso top that for a chance to face Vlad Jr. in the final?
---
Wow! What a show. Vlad Jr. somehow, someway finally outlasted Joc Pederson to reach the Home Run Derby final, where he'll face either Pete Alonso or Ronald Acuna Jr.
---
Are you serious!? After they tied with 29 home runs, Vlad Jr. belted 8 more in the tiebreaker round and Joc Pederson somehow matched him with a blast at the buzzer forcing a second tiebreaker.
---
Ali-Frazier. Bird-Magic. Guerrero-Pederson. Put this semifinal showdown into the pantheon of great sports battles. Vladdy Jr. and Joc Pederson both swat a record 29 home runs, setting up a tiebreaker hit-off. Or homer-off.
---
"Vlad-dy! Vlad-dy!" The chants echoed around Progressive Field as Vladimir Guerrero Jr. ties his own record -- set in the first round! -- with 29 home runs in the semis. He raises his arms in triumph after his final swing. He's already just the third player to hit 50 home runs in a Home Run Derby (Giancarlo Stanton hit 61 in 2016 and Kyle Schwarber hit 55 last year). And he may have one more round to go.
---
The semifinals are set and it will be Joc Pederson vs. Vlad Guerrero Jr. and Ronald Acuña Jr. vs. Pete Alonso.
---
With $1 million on the line, damn right the players want to win this. Pete Alonso beats Carlos Santana on his final swing with one second left on the clock, screams out a loud "Yeah!", chest bumps his pitcher ... and gets booed by the Cleveland fans for beating the hometown hero.
---
Josh Bell, a popular pick to win it all thanks to some prodigious blasts in the regular season, struggled early with just home runs when he used his timeout at 2:33. He heated up after that, but it was too late: Ronald Acuna Jr. beats him, 25 to 18. Bells still leads in home runs hit into the Allegheny River, however.
---
Last year nobody hit more than 17 home runs in the first round. This year, Vlad Jr. (29), Ronald Acuna Jr. (25) and Joc Pederson (21) have all easily bested that total -- and we still have three more sluggers left to go.
---
Dad approved ✅@VladGuerrero27 knows his son, Vlad Jr. has the power 💪 #HRDerby pic.twitter.com/QLwWA29M40

— ESPN (@espn) July 9, 2019
---
Halfway through the first round update -- Vlad Jr. and Joc Pederson are moving on to the semis; Alex Bregman and Matt Chapman are out.
---
Vlad Jr. just hit the most home runs in a round in Home Run Derby history, but something about the way the ball is traveling tonight makes me wonder just how long the record will hold up.
---
Vlad Jr. drew some oohs and ahhhs from the crowd in Cleveland with a 476-foot first-round bomb, easily the longest of the night -- so far.
---
This should be Alex Bregman's last time in the Home Run Derby after another first-round defeat. He didn't hit two 440-foot home runs, so missed out on the bonus time and goes down to Joc Pederson.
---
We won't know for a while if it's a good score or not since he led things off, but Joc Pederson made belting 21 home runs look easy in the first round of Home Run Derby night.
---
---
---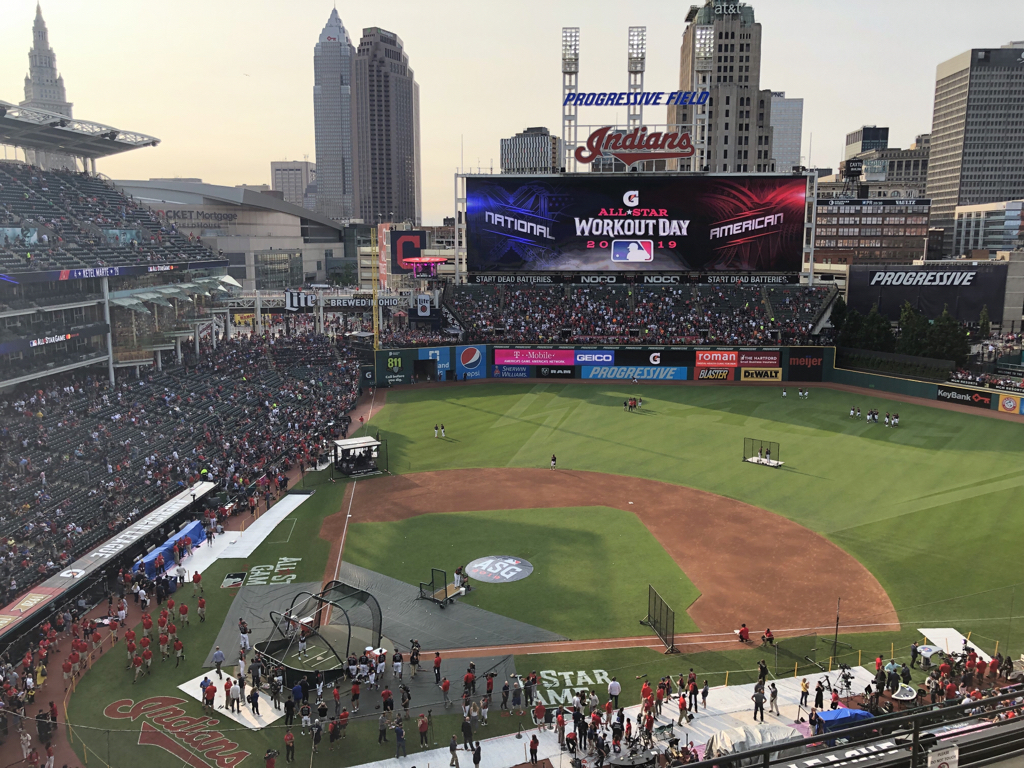 Not a bad view from high above Home Run Derby batting practice.
---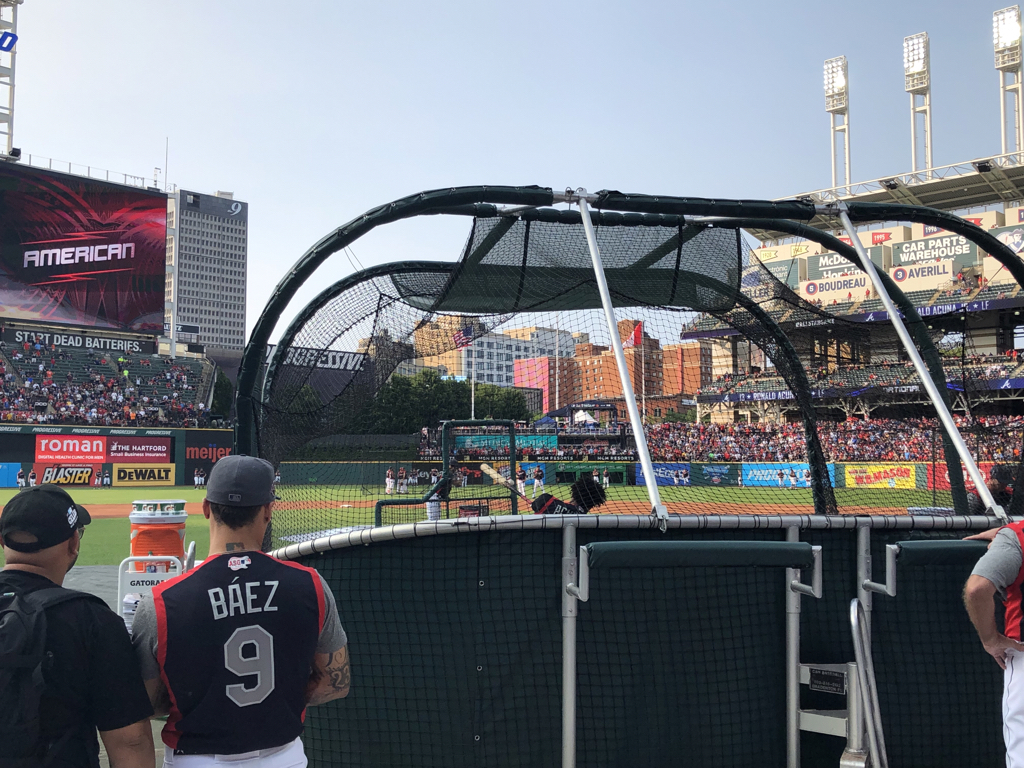 He might seem small taking BP in between Pete Alonso and Josh Bell, but, man, is Ronald Acuña Jr. fun to watch — and Javy Baez seems to agree.
---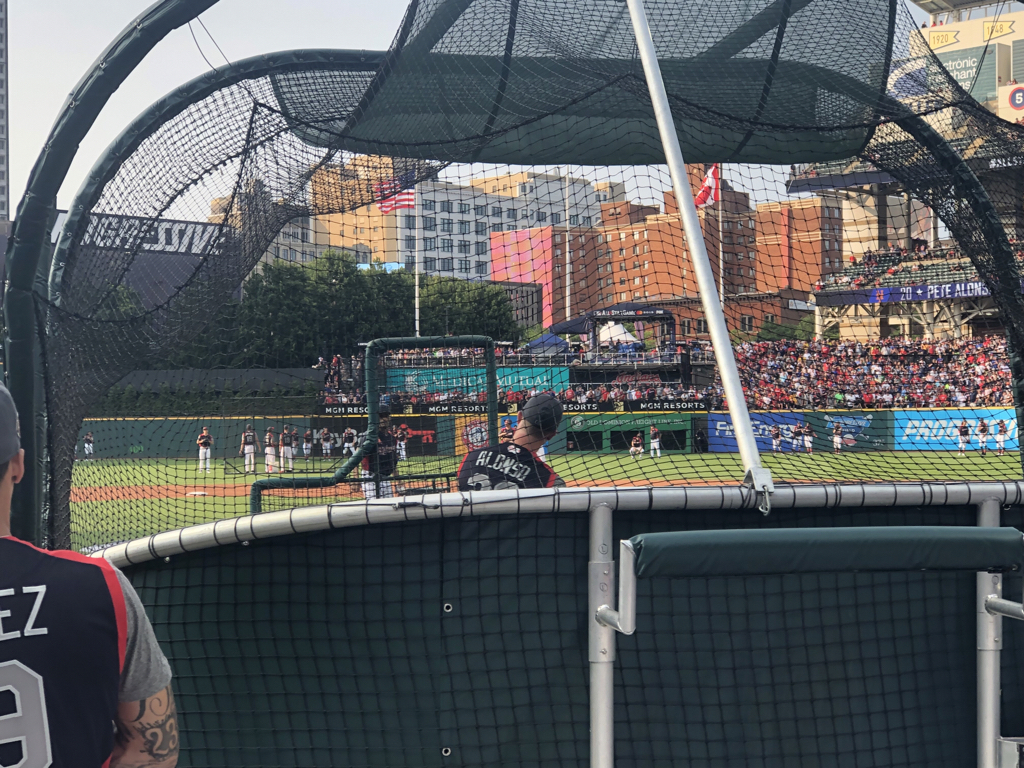 When Pete Alonso hits a baseball, it makes a very loud sound.
---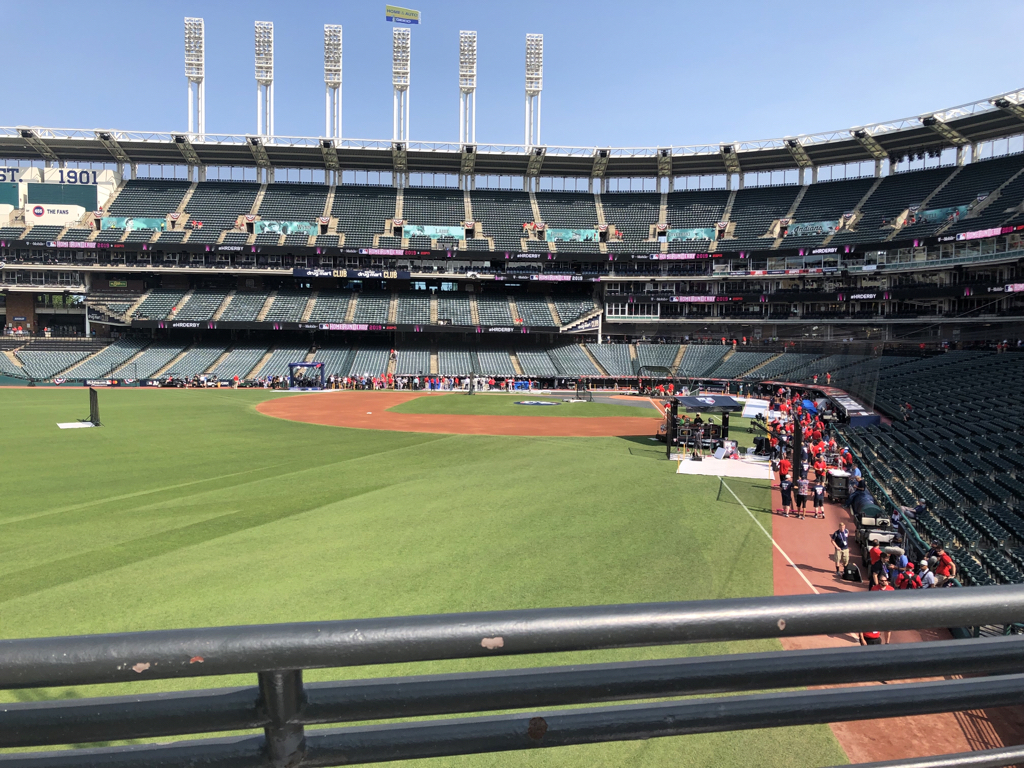 Here is the view in from one of the spots we're sure to see plenty of long balls hit tonight, just over the high fence down the left-field line.
---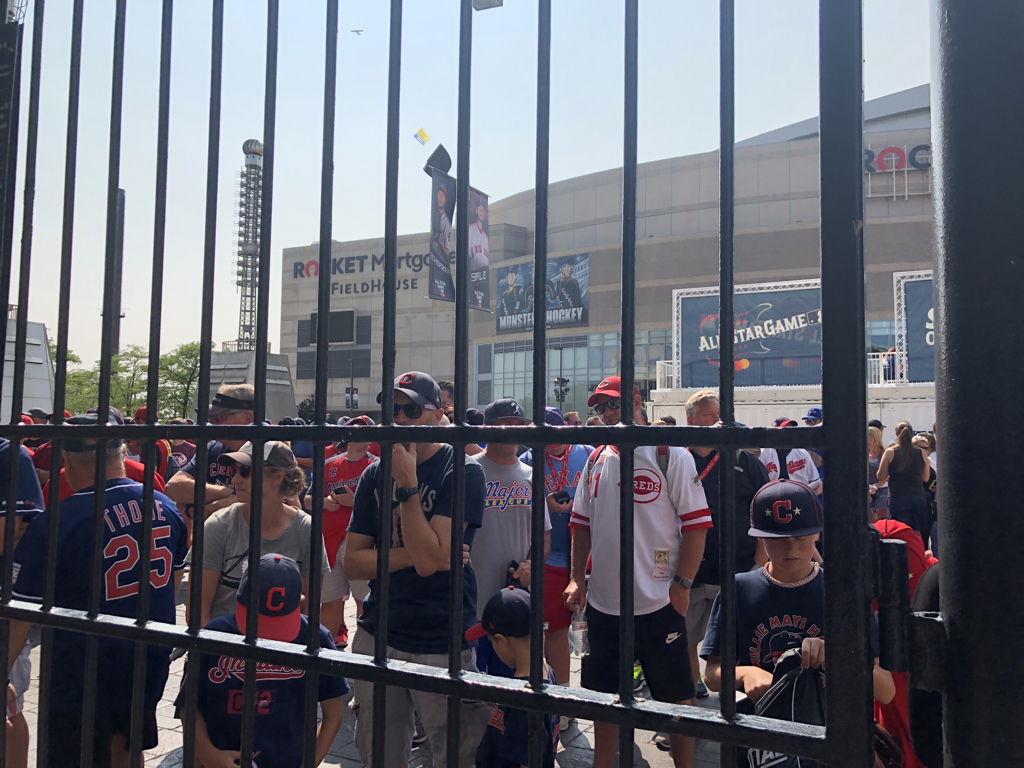 Just over three hours before the start of tonight's All-Star Home Run Derby that streets are absolutely packed with fans waiting to enter Progressive Field.
---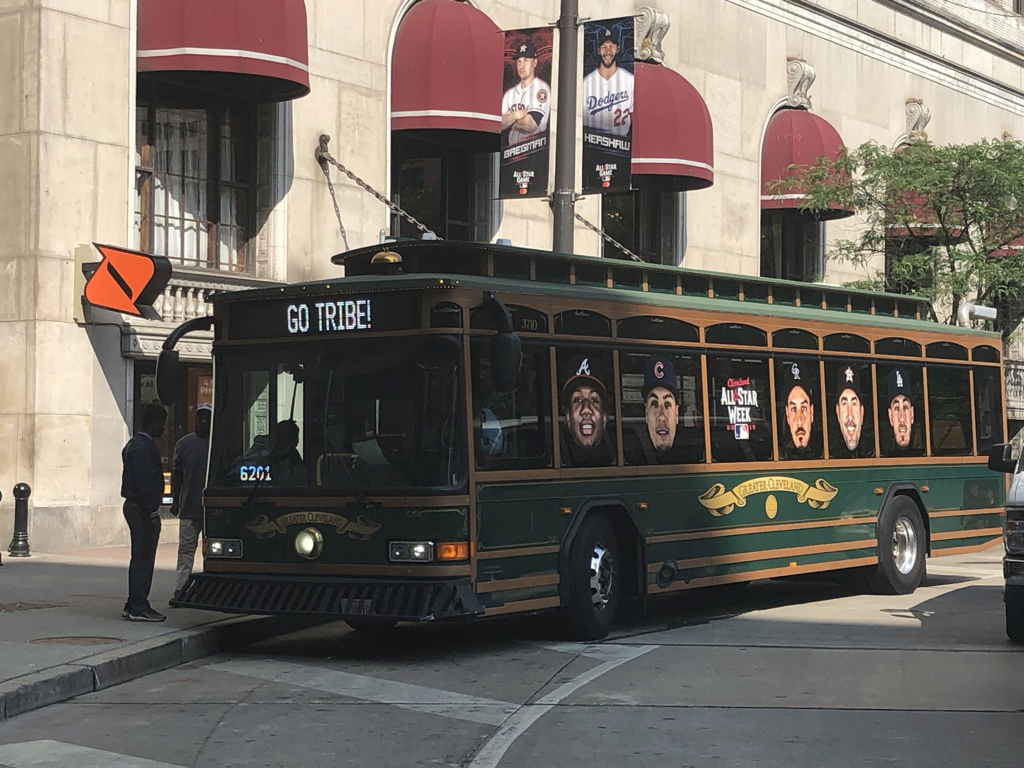 The busses in Cleveland have All-Stars on thm to celebrate the festivities in town. Acuña, Baez, Arenado, Verlander AND Bellinger? This bus is packing some serious star power.
---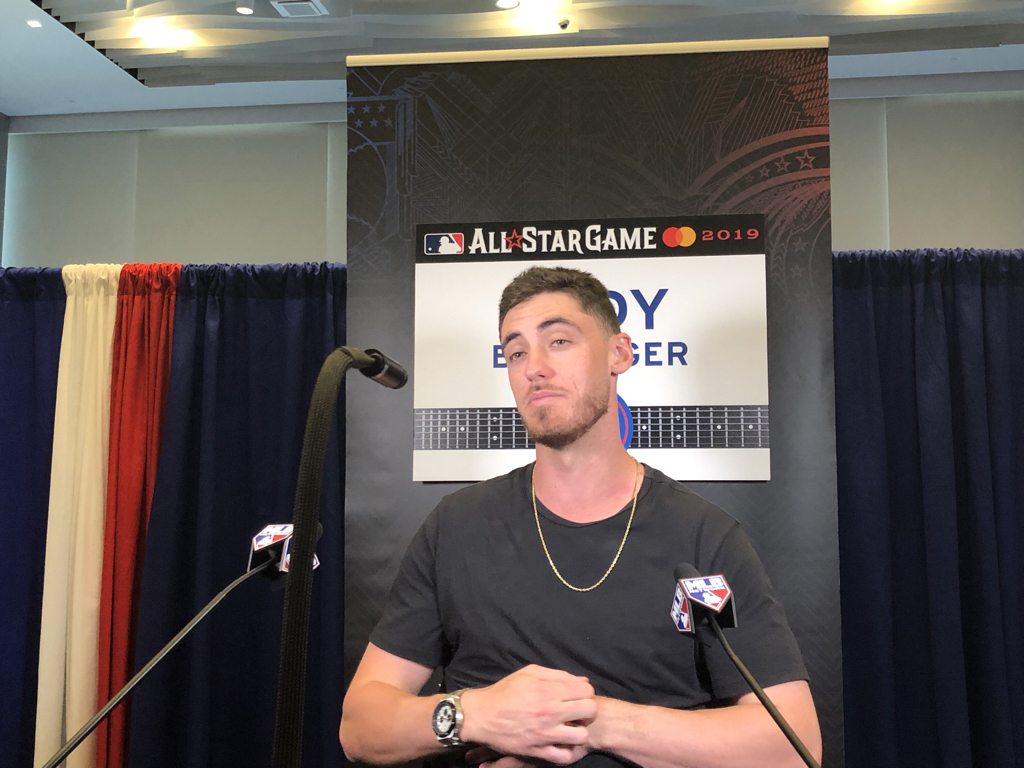 Cody Bellinger contemplates whether he'd rather be stuck in an elevator or a ski lift (ski lift) and if he'd rather eat dinner in a restaurant by himself or go to a concert by himself (dinner) because these are the important questions that get answered on All-Star Media Day.
---
Christian Yelich mentions after the All-Star break last year as when everything really clicked for him.
---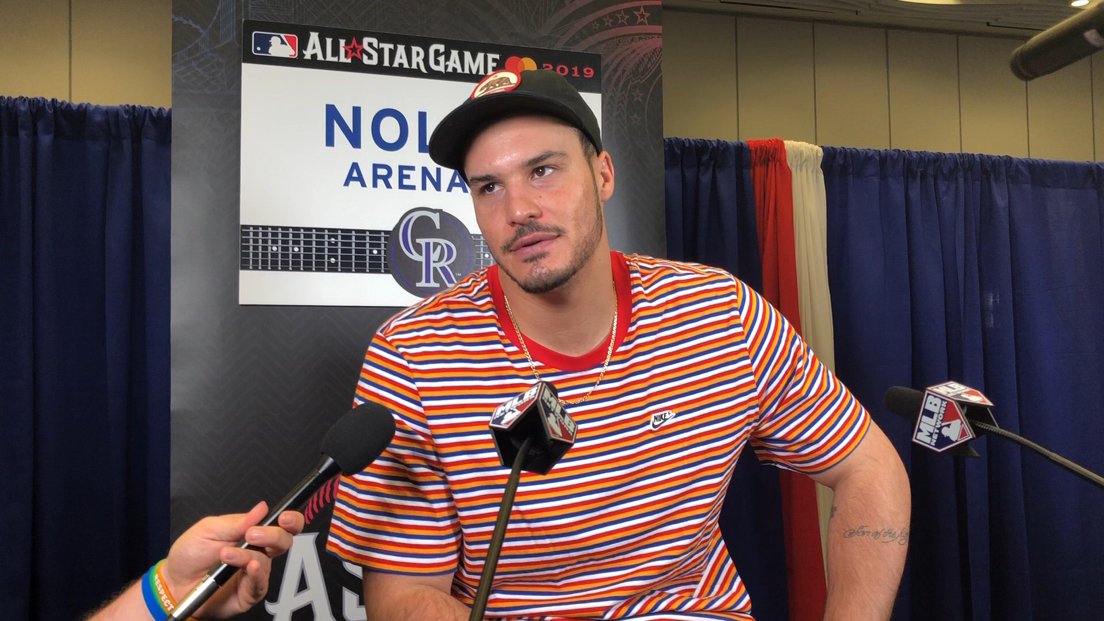 Nolan Arenado on Cody Bellinger, Christian Yelich and the beauty of left-handed swings: "Yeah, it sucks for us righties."
---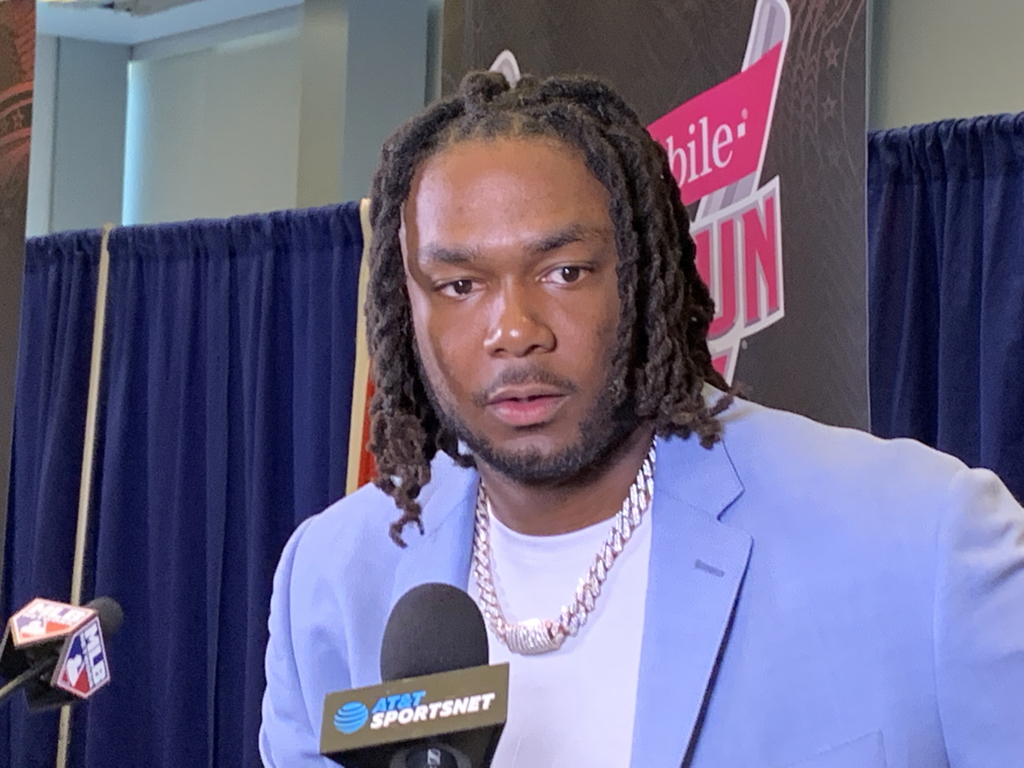 Josh Bell has one of the biggest crowds surrounding him at NL media day leading up to tonight's Home Run Derby. The number of chains on the baseball field has ticked up in recent years, and Bell's definitely led the pack today ✨✨
---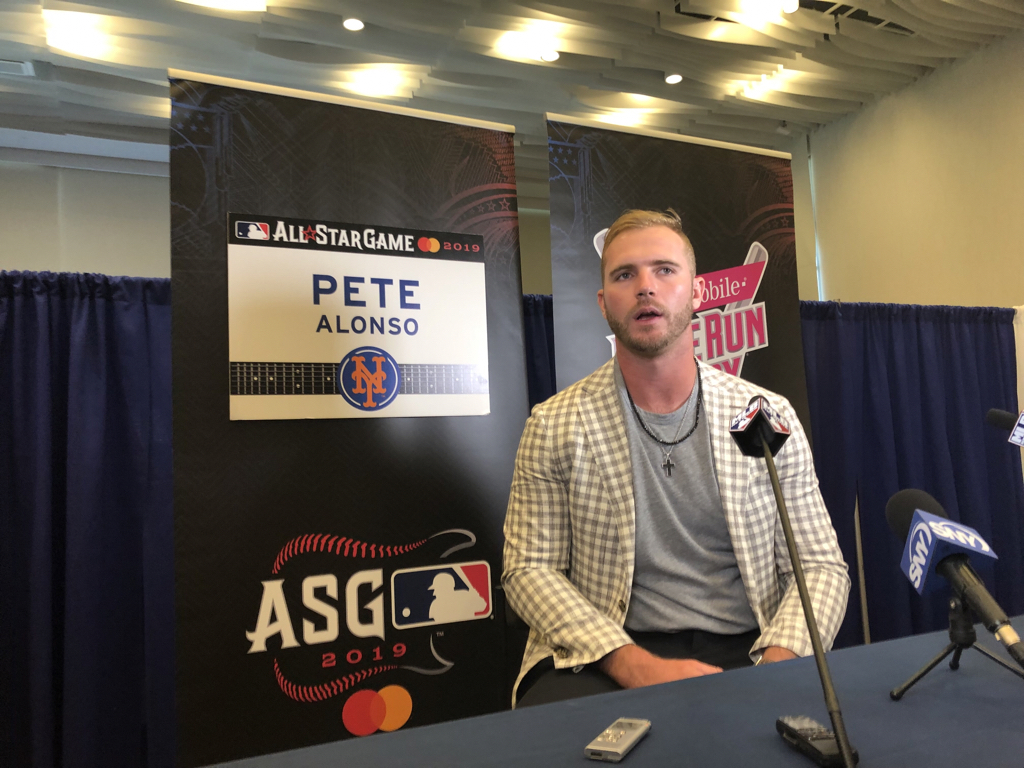 If they decide to settle the Home Run Derby with a trivia contest, my money is on Pete Alonso. The guy is a walking HR Derby encyclopedia, rattling off years and champions from his childhood to the media.
---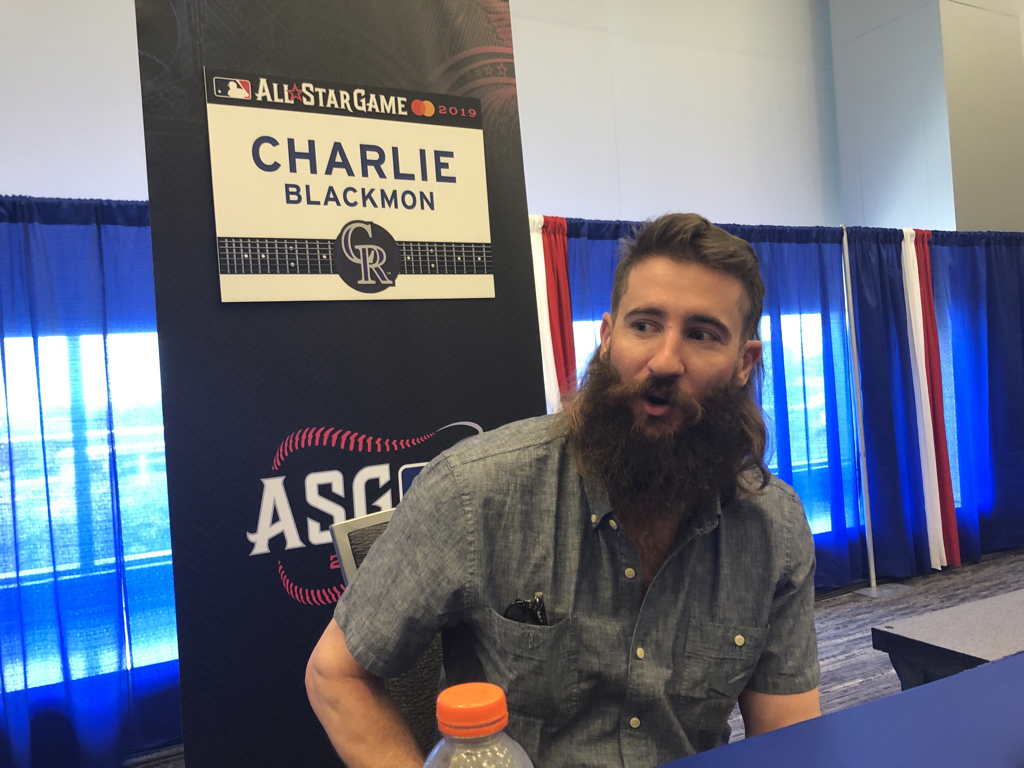 Charlie Blackmon on staying cool and relating to young players as one of the older All-Stars: "I've got the Twitter, I've got the 'Gram"
---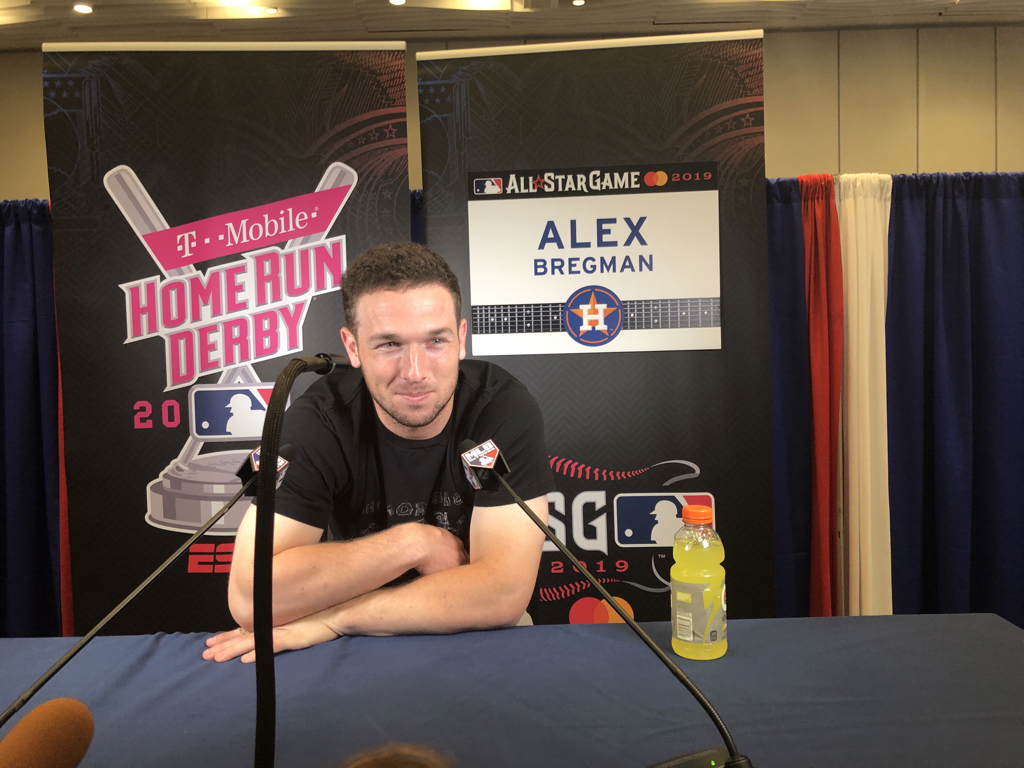 Someone asked Alex Bregman what he thinks of first when he hears the word Cleveland. His response? Major League 2 and Major League 1 (in that order) and he added that teammates have called him Dorn when he misplays a ball at third base.
---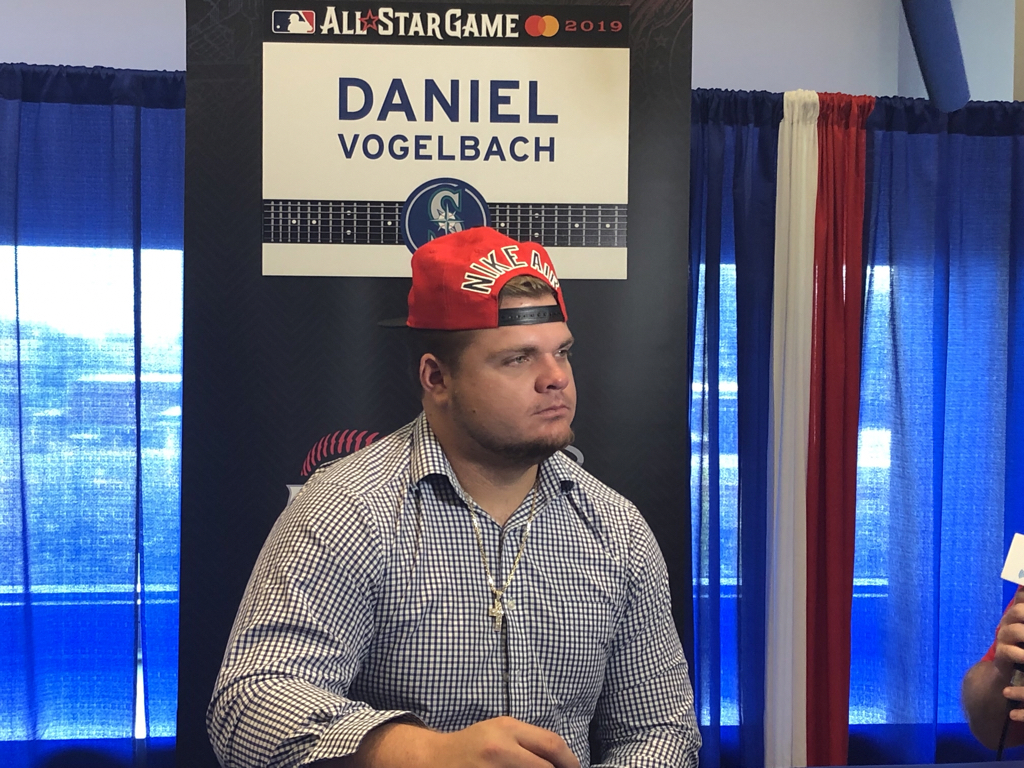 Daniel Vogelbach is rocking the old-school Nike Air hat backwards for his first All-Star media session.
---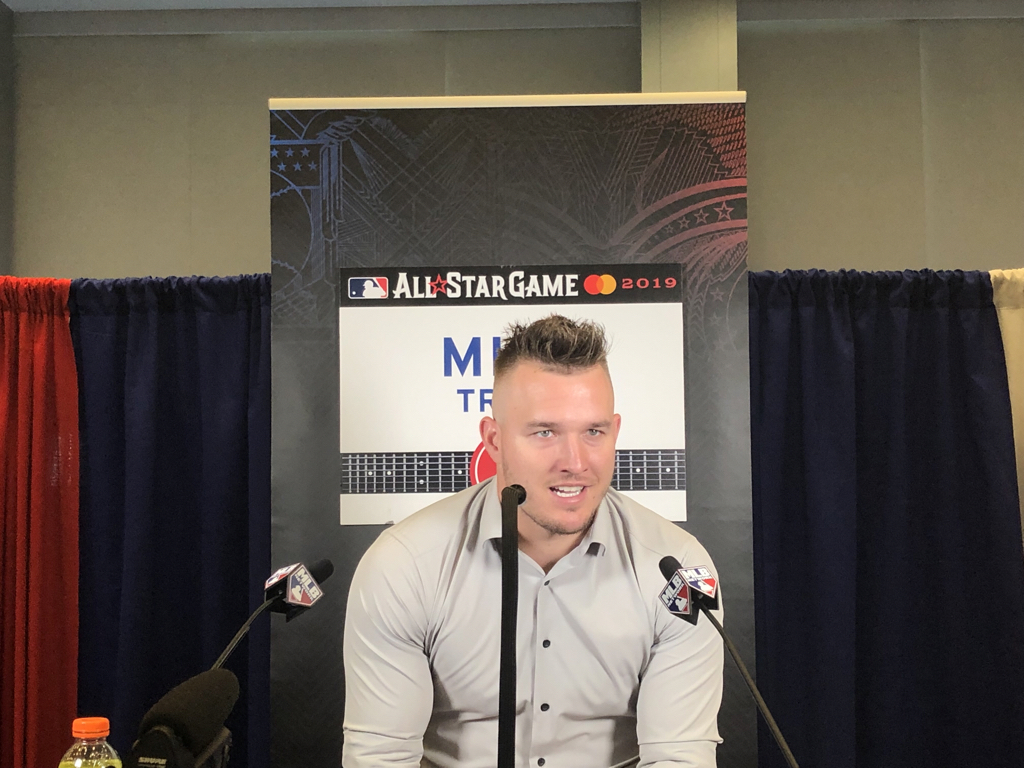 When asked which mascot he could beat in a fight, Mike Trout replied: "Orbit, because he's always messing with me"
---
Alex Cora on DJ LeMahieu: "People thought he couldn't hit outside of Colorado, but he can hit outside of Colorado and in Europe too."
---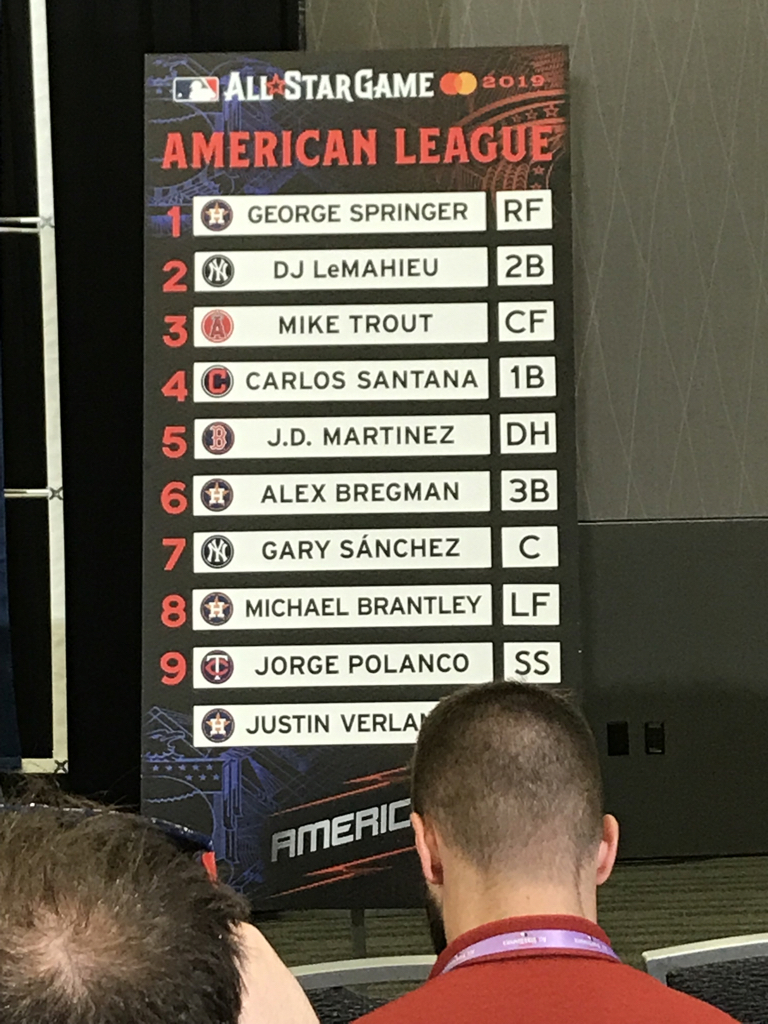 Your American League starting lineup:
---
MLB All-Star lineups are in from Cleveland. Hard to believe there has been a better one in recent years than this NL one. Yelich, Freeman, Bellinger, Bell, etc. Such power. Acuna eighth!
---
Dave Roberts says he'll likely follow Hyun-Jin Ryu with Clayton Kershaw and Jacob deGrom and then focus a little bit on matchups after that.
---
Hyun-Jin Ryu on becoming the first Korean pitcher to start the All-Star game:

"It will be a special day for my country." pic.twitter.com/CtcZcl4adN

— Joon Lee (@joonlee) July 8, 2019
---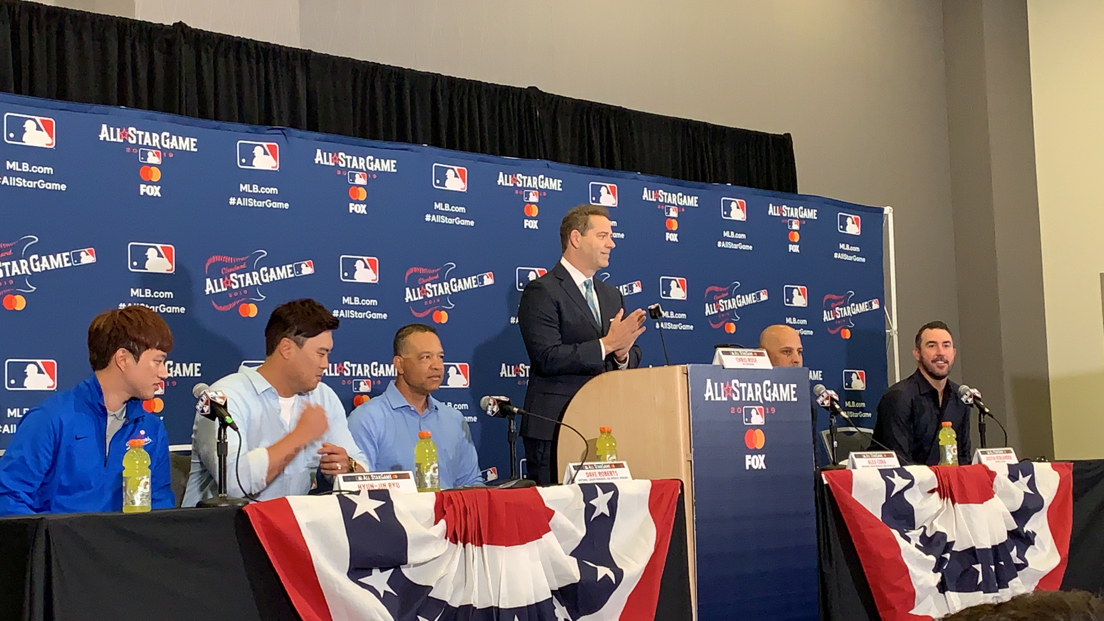 Hyun-jin Ryu and Justin Verlander will be the starting pitchers for tomorrow's All-Star Game. It will be the second Summer Classic start for Verlander, and first one for Ryu.
---