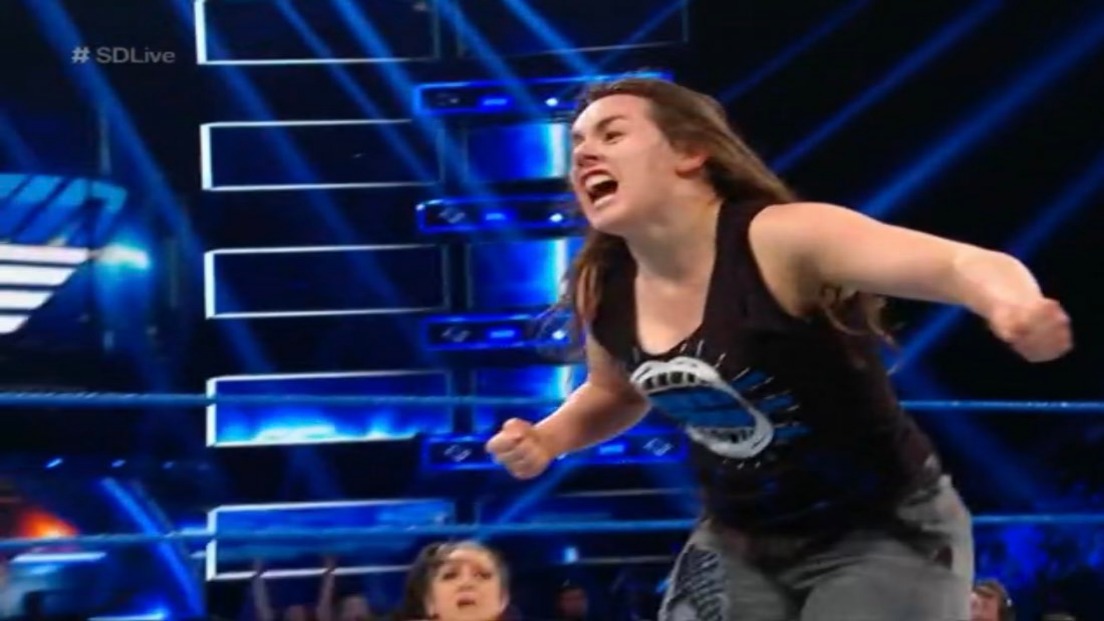 A couple paths were laid on Tuesday's SmackDown Live. Nikki Cross's victory over Bayley gave Alexa Bliss another title shot. Her relationship with Bliss is one of the continuing bright spots of WWE programming, including Corey Graves offering his cell phone for her to call Bliss to tell her the news. Shinsuke Nakamura seems to be the next challenger for Finn Balor's Intercontinental Title after walking into his backstage interview. And somebody seemed to answer Aleister Black's outcries for a fight. The first chunk of the show was dedicated to the tag team division, where the New Day (Xavier/Big E) first defeated the champs (Daniel Bryan/Rowan), and then after a post-match brawl, and then Heavy Machinery (teamed up with New Day in an eight-man tag), got a pinfall victory over Sami Zayn (teamed with Kevin Owens, who walked out late in the match, and Bryan/Rowan). But one door may have been closed, as the Shane McMahon-Miz feud looks to be over after he and Elias took out Miz, allowing Elias to pick up an easy fall to end their two-out-of-three falls match.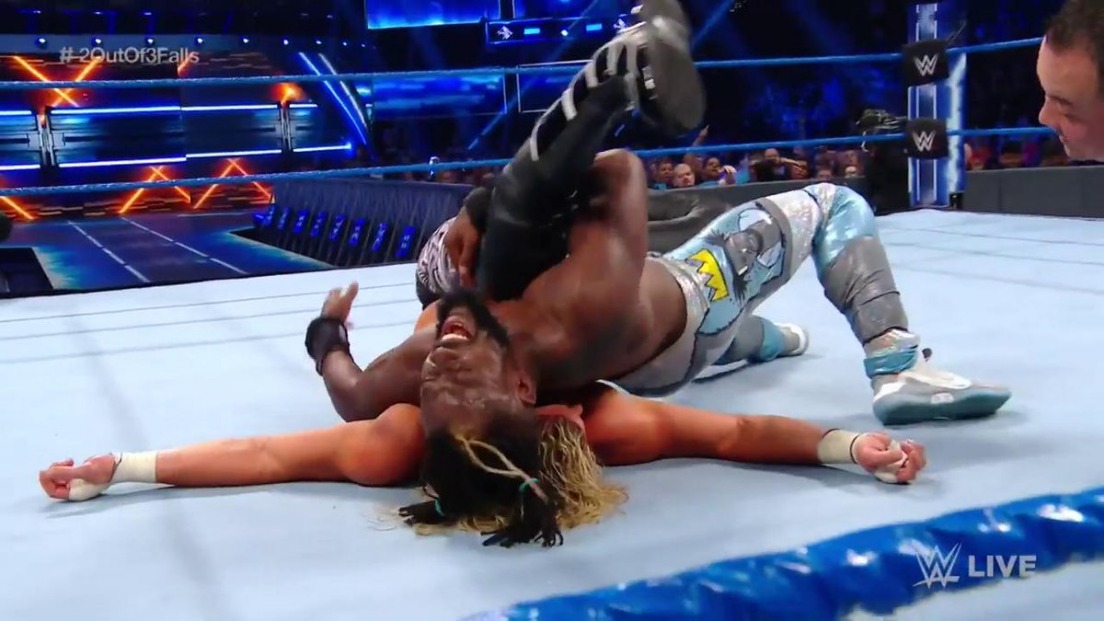 Kofi Kingston denied Dolph Ziggler's effort to join his WWE Championship match versus Samoa Joe at Extreme Rules, taking the third fall in a best two-out-of-three falls match in the main event of Tuesday's SmackDown Live. If this ends Ziggler's run in the title picture, then hopefully the passion showed in his chase will be able to keep some momentum among the top of the SD Live card.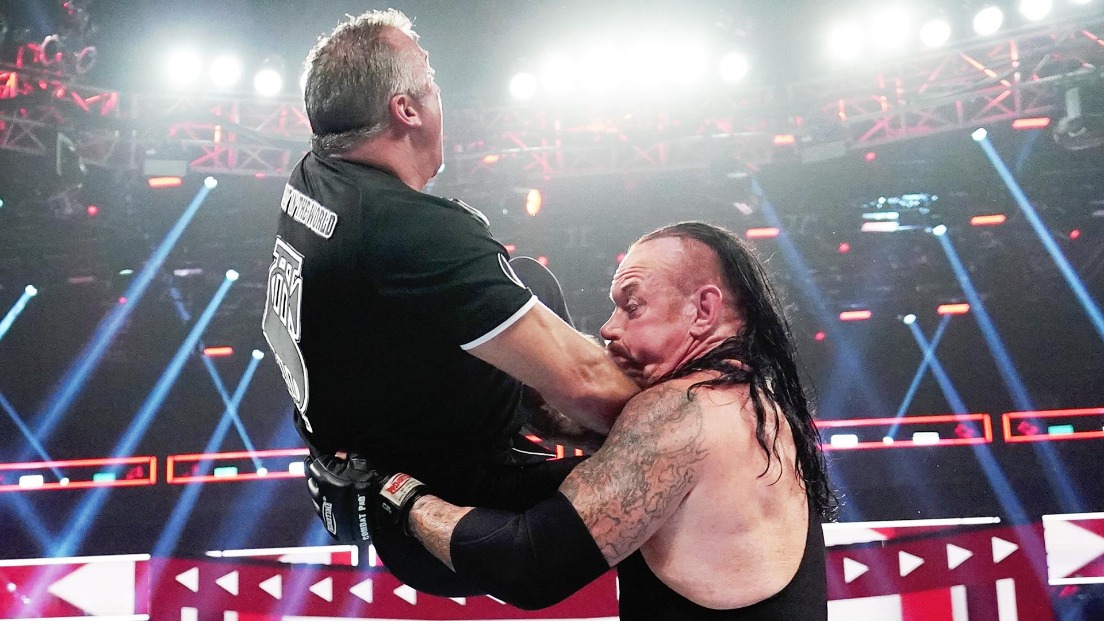 The talk of the night Monday was the unexpected return of The Undertaker, who interrupted a two-on-one handicap match in which Roman Reigns battled Shane McMahon and Drew McIntyre. As The Undertaker laid out McMahon, with whom he had a memorable WrestleMania 32 Hell in a Cell match, as well as McIntyre, the stage was set. Undertaker and Reigns, who themselves closed out WrestleMania 33 against one another, will tag together against McMahon and McIntyre at Extreme Rules in less than three weeks. It was one of two tag matches announced for the show on Monday night; following the events of Stomping Grounds, Becky Lynch and Seth Rollins will take on Baron Corbin and Lacey Evans with both the Universal and Raw women's championships on the line.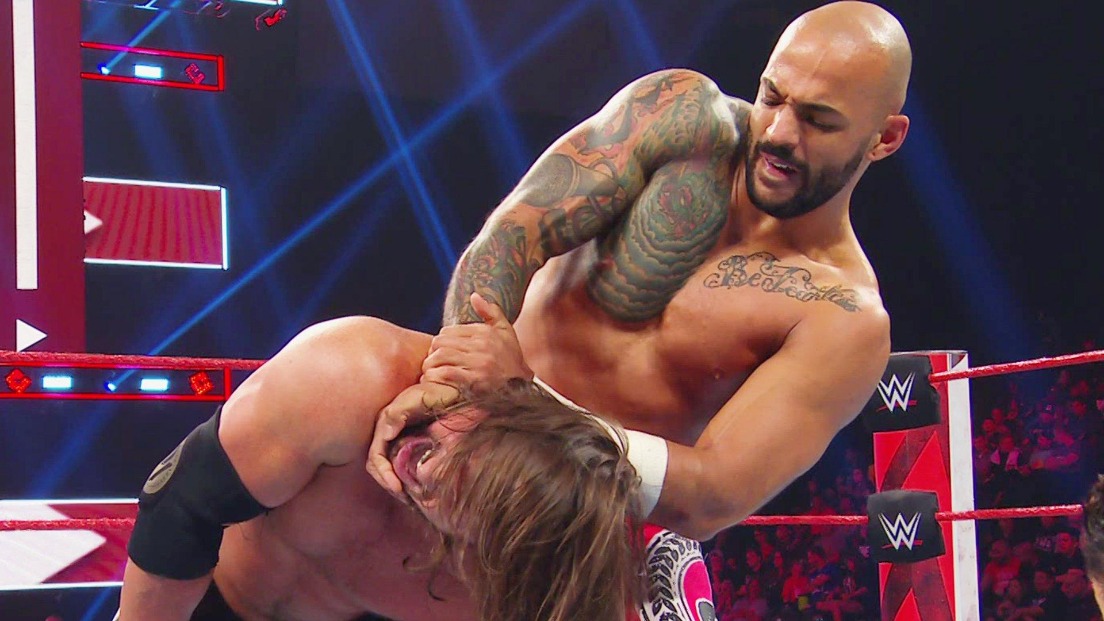 AJ Styles and Ricochet closed out Raw with a short, but potent, reminder of what each is capable of in the ring. Styles ultimately persevered over the newly crowned U.S. champion, but whether Styles is destined to battle Ricochet for the belt or Gallows & Anderson will be his focus (or perhaps both), at some point down the line, Ricochet vs. Styles needs to have more than 11 good minutes to truly build up to its potential.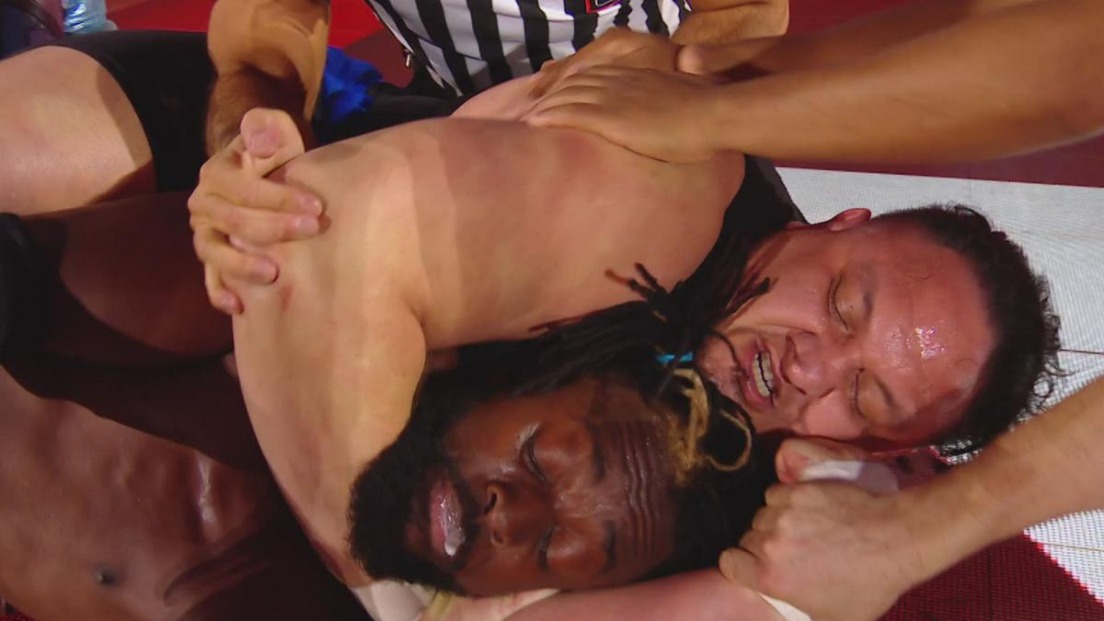 The theme of the night was wrestlers pulling double duty. Kofi Kingston defeated Sami Zayn and picked up a second win (via countout) over Kevin Owens. For his troubles, recently dethroned U.S. champion Samoa Joe choked him out on the top of the stage. Alexa Bliss won a one-on-one match against Naomi, and then teamed up with Nikki Cross to defeat Naomi and Natalya. There were no less than five 24/7 title changes; R-Truth defeated Drake Maverick, but then dropped the belt to Heath Slater, won it back and then lost again to Cedric Alexander. EC3 swooped in and won, but then R-Truth ended the whole arrangement by regaining the belt once more. Rounding out the night's action, The Usos and New Day won what was essentially a Survivor Series-style elimination match against Rowan, Daniel Bryan and The Revival to set up a match between The Usos and The Revival. Finally, Braun Strowman won a tug-of-war against Bobby Lashley. Yes, you read that right.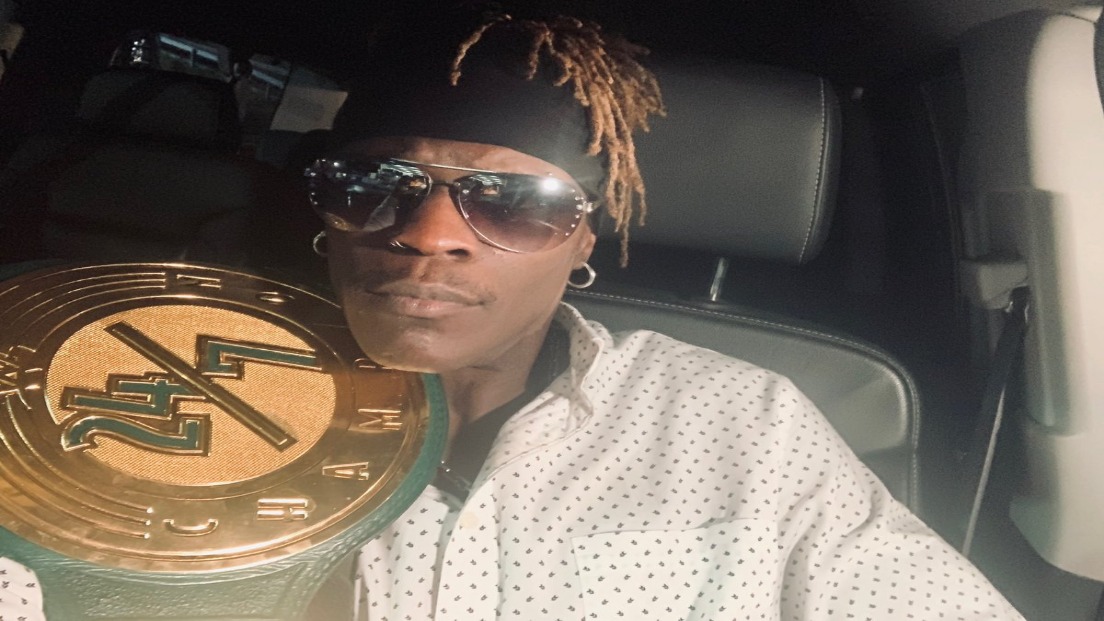 3-time WWE champion Mick Foley made an appearance on RAW tonight to debut a new championship. The title, dubbed the 24/7 Championship, is reminiscent of the Hardcore Championship of years past, a fond memory of the Attitude Era. The title can be defended anywhere, at any place, at any time. Following his announcement, Foley left the championship in the middle of the ring to be claimed by any superstar. After a brawl featuring a number of superstars, Titus O'Neil became the first-ever 24/7 champion. The reign didn't last long, however, as Robert Roode snuck up from behind him and rolled him up for the pinfall victory to become champion. After Roode evaded challengers backstage, R-Truth lured him into a trap and got the pinfall to take the title to SmackDownLive.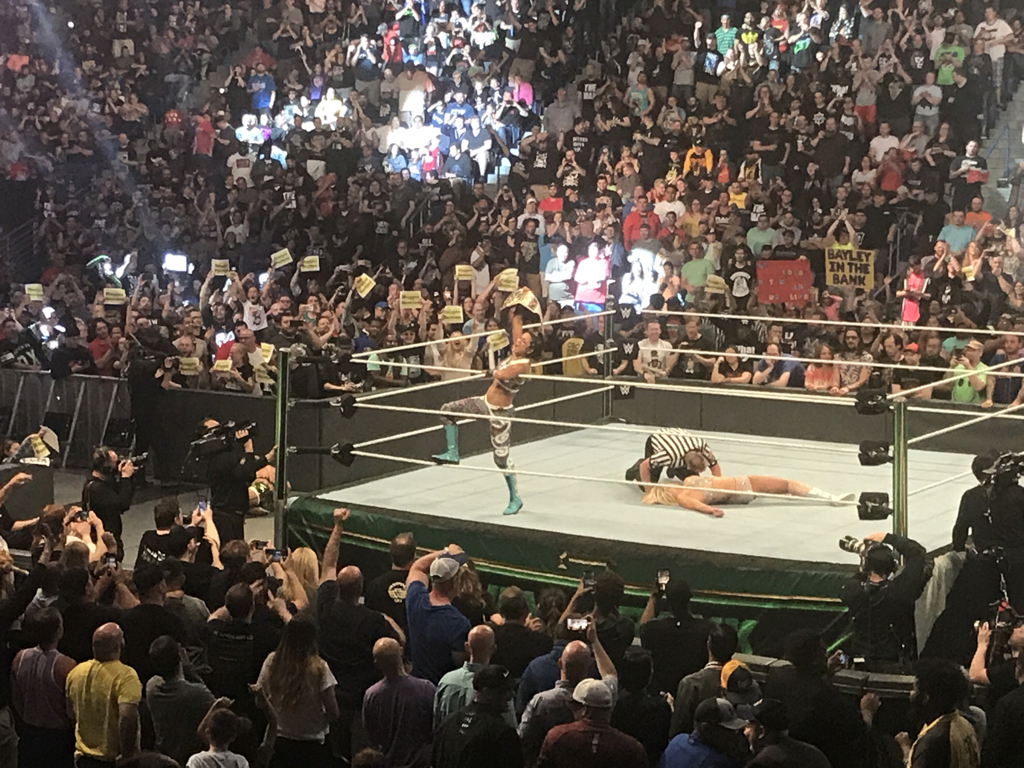 Bayley cashes in her Money In The Bank briefcase on Charlotte and wins the SmackDown Live women's championship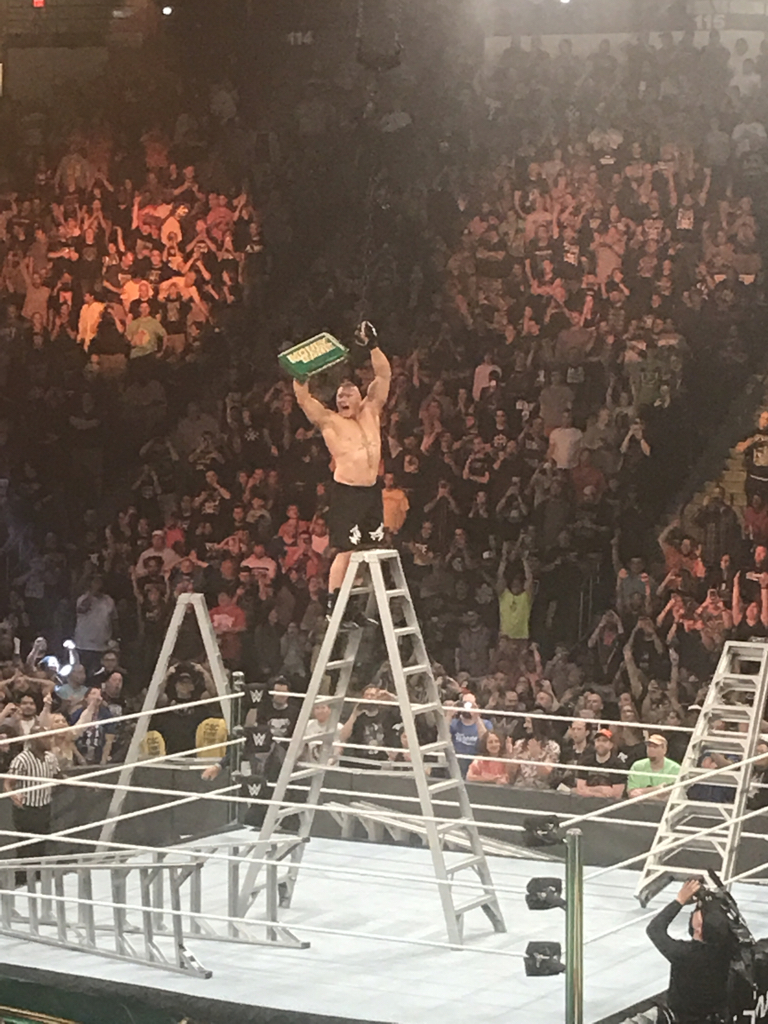 Well that was a twist. Brock Lesnar runs in an grabs the Money In The Bank briefcase. He was announced as the winner.
Kofi after winning WWE Title: 'I was overcome with emotion'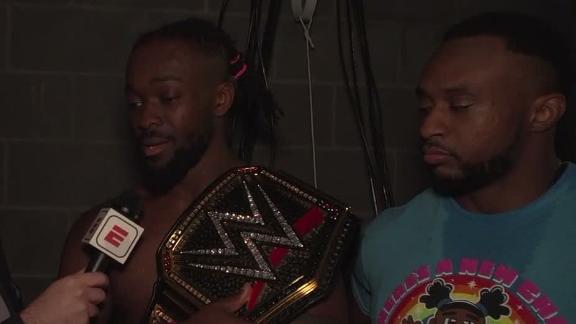 Rollins wants 'to headline Wrestlemania next year'
After defeating Brock Lesnar, Seth Rollins says next year he wants to headline Wrestlemania.
Hawkins: It's 'pretty special' to win title in hometown
Curt Hawkins and Zack Ryder reflect on the feeling of winning the Raw tag team titles at WrestleMania 35.
How WrestleMania became a mainstream cultural phenomenon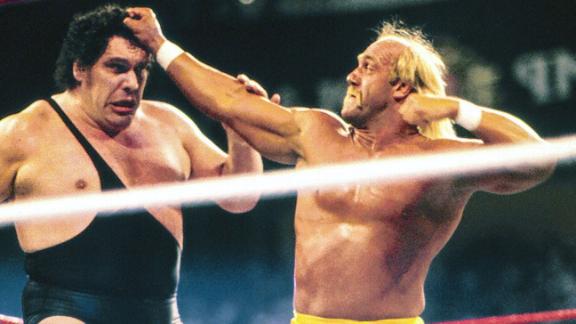 Kofi Kingston: Xavier Woods and Big E are my brothers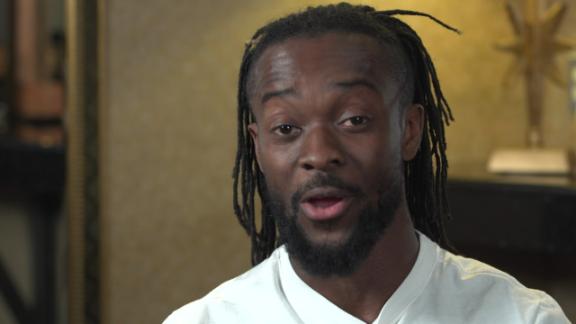 WWE

Profile pages for every active member of the WWE roster

WWE

Trace the lineage and history of every active title in the WWE

WWE

All of the current champions in WWE and the most significant contenders for each title.
Customize ESPN